You are here
Who We Are / Contact Us
The Oregon Legal Research website is run by Oregon public law librarians from Washington and Clackamas counties and the blog's founder, a legal research and public law library consultant in Multnomah County. If you have a question about the site, please feel free to contact us at oregonlegalresearch@yahoo.com.
We are not able to answer user's specific legal questions. If you have a legal question, the following options might be useful:
1) You can look for posts on specific topics on the Oregon Legal Research blog, by clicking on the subject tags.
2) If your question is fairly general, e.g. about Oregon history, how laws are made or how the legislature works, or if you are a K-12 student with a homework assignment, visit your public library, in person or its website, to ask for their research assistance or call an Oregon public law library for research assistance.
3) If you have a specific legal research question, please contact your nearest Oregon county law library for research guidance. For more information about what you can find in a public law library, visit the Washington County Law Library's "Library Services" webpage.
4) You can also ask your question at AnswerLand, an Oregon online reference service.
5) If you have a legal problem, rather than a question you want to research for yourself, please contact an attorney. Visit our Free & Low-Cost Lawyer Services page for more information.
6) Last, but not least, please remember, that there is a big difference between DIY Lawyering and DIY Legal Research.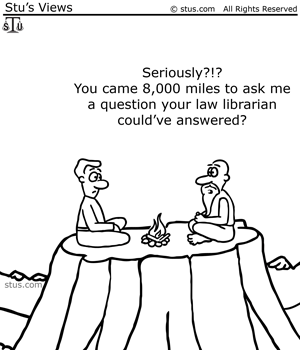 Image used with permission from www.stus.com.